Shopping for a used car is one of the easiest ways to save money. Not only do you save money on the purchase, but you build smart habits in comparison shopping, and negotiating.
Where to Shop
You can find cars through private sales, rental companies, or dealerships. In fact, this is the way many millionaires prefer to shop. Thomas J. Stanley, co-author of "Millionaire Next Door" dedicated a section of his book to the ways a segment of the millionaires, which he called Used Vehicle Prone Shoppers, preferred to buy their cars. "When asked how he gets a 'good deal' when acquiring a motor vehicle, the UVPS's number one response is 'buying used cars via aggressive shopping among private owners, dealers, leasing companies, etc.' But there is much more to this story than just the acquisiton of motor vehicles. The UVPS segment represents literally hundreds of productive habits, financial lifestyle patterns, and attitudes." – http://www.thomasjstanley.com/2012/02/millionaire-next-door-myth-4-used-cars/
Do not be afraid to use Craigslist to get an idea of what is available in your neighborhood at your price point. A lot of dealerships post their cars on Craigslist, and you can find sales from owners.
What to Buy
Determine which features are necessary for your lifestyle, and be flexible on cosmetics. You will pay more if you cannot walk away from a specific feature or model. By keeping your needs few, you give yourself room to negotiate harder without an emotional attachment.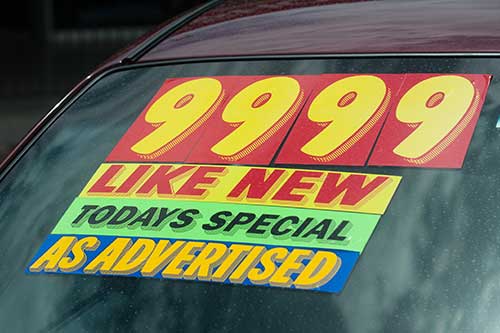 Get it Checked
Know where the car is coming from. If there is water in the headlights, but it has not rained, the car might have flood damage. If it comes from a region with a lot of rain and snow, salt and rust might be an issue. If you are not sure what to look for, take your car to a local mechanic you trust to check the car before you buy.
Negotiate
Don't be afraid to negotiate. You are not hurting anyone's feelings by making a counter offer. Whoever you buy your car from expects you to negotiate. Both dealers and private sellers build a cushion into their asking price assuming you will counter their initial offer.
Buy What You Need
Pay for as much of the car as you can upfront. Set up a budget. Look into financing if you have to. Banks will not finance cars that are not worth much, so consider personal loans through your bank. Remember that a car is not an investment. You will not get the money back that you spend on gas, insurance, registration, maintenance, and that you lose through depreciation. Do not buy more car than you need to get you from point A to point B.
Use these tips on buying a pre-owned car to help you buy only what you need, develop better research and negotiation skills, and to get out of your comfort zone. You might even fall in love with a car you would normally never consider for yourself.