Save money and take pride in your car by committing to washing it yourself instead of paying someone else to do it. Spending some time giving your car love and care will be more rewarding. While it's easier to take it to a car wash and let a machine or other person do the dirty work, you'll end up saving money that you can spend elsewhere which is much more fun. Here are a few tips to take on this project and still have fun while doing it.
Your Supply List
You only need a few supplies to get a good car wash and be off and running. A hose, car wash soap, a sponge, and rags for drying are all you need to get the job done. If you want to get fancy, there are special cleaning cloths, wipes and other products to detail the inside of your car with or get the wheels really squeaky clean. Decide how much you want to invest in the beginning. You can add products to your arsenal as you get more advanced in your washing. Start out with the basics and you'll be off on the right foot.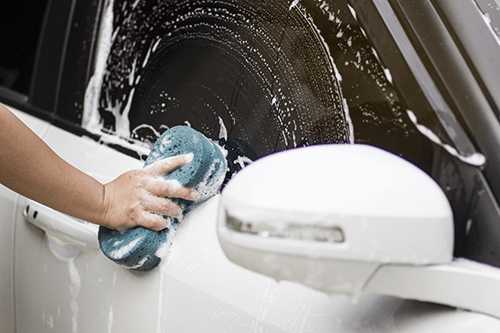 Work it Out
Washing a car can be a great workout. Kill two birds with one stone by washing your car and getting your daily workout in. Make it fun while listening to music and going in with the mindset that this is your workout for the day. It will make the hustle a lot easier knowing you are doing double duty. Cool off in the summer heat since you'll have a hose with cool water at your disposable. If you go into your car washing with the right attitude, it will go by in a breeze and you'll feel accomplished in no time.
Take Pride
Before we became an instant gratification society, people took pride in their vehicles and it was a whole process to wash and polish their cars back in the day. Return to simpler times by adopting the attitude of taking pride and ownership of your car. Protect and polish your investment. Spend some time with the wheels that take you far in life. You'll have more pride driving your car around town knowing you took the time to make sure it was taken care of and looked good. This goes for the interior of your car too. Take care of the insides, clean out any trash or unnecessary items junking up your investment. You'll feel better about yourself and your car if it's clean on the inside and out. Less clutter in your car means less clutter in your life.
Save money while protecting your investment by taking ownership of washing your car. It's an easy and simple way to pay it back to your vehicle that takes you from A to B in life. You'll have more accomplishment and satisfaction in your wheels as you drive around town.