It can be inconvenient and sometimes intimidating to take your car to the auto shop. If you aren't a car expert, you may often feel left in the dark when the service manager talks to you about everything you need to fix on your car. The cost is never appealing either. The good news is you do not need to be an expert to make the most of your trip to the auto shop.
Schedule an Appointment.
While this may seem like a given, it's important to get off to the right start. Be clear about what type of work you would like on your car and make sure you set aside enough time to ask questions if necessary. Scheduling an appointment shows that you're prepared, and the shop will be able to make sure they're ready for you. Ideally, they'll have the required parts and enough personnel to complete the job.
Do Your Homework
Before taking your car into the shop, write down any known issues with your car. Now it's time to do your homework. Try to get a sense of what type of labor and parts your car requires. It's also important to have an idea of the average cost of the service, so you're not caught off guard when approached with the service estimate. Be sure to research for your specific car make, model, and year.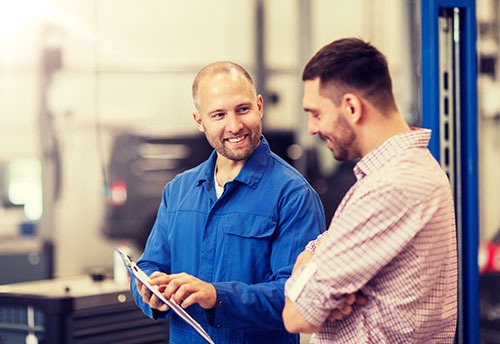 Take Your Time
A typical oil change can take at least half an hour to an hour to complete. If you're waiting for your car to be serviced, time may pass by slowly. Regardless, do not rush into any decisions when they give you a quote of what type of service your car needs. You do not have to say yes to everything, and you can also just say no to everything. Do not feel pressured.
Get a Second Opinion
This tip falls in line with both doing your homework and taking your time. If you find out that your car needs to be fixed, it can be helpful to take it to another shop. This serves two purposes. It can confirm the type of service that your car requires and offer a cost comparison.
Don't be Afraid to Negotiate
It never hurts to ask if the shop can offer you a better deal. Don't forget to leverage the work you've done ahead of time too. If you've done your homework, you're prepared. If you're taking your time, you're informed. And, if you've received a second opinion, you have leverage. All of the above can be incredibly useful when negotiating so don't shy away from making sure you're getting the best deal.
Bring a Friend.
It can be helpful to bounce thoughts off a trusted friend, especially when making big decisions. If you're friend has auto experience, that's a clear bonus. If they don't have auto experience, they can still help you research options and offer moral support. Either way, don't be afraid to ask for help and tap into your networks.