Escape and breathe the air of new places with your best four-legged friend beside you.  No matter what season it is, having your furry companion sitting shotgun next to you always makes for a good time. Animal lovers aren't the only ones who know that, car manufacturers do too.  According to AutoTrader.com, the 2017 BMW X5, 2018 Chevrolet Equinox, and the 2017 Chrysler Pacifica were all in the top 5 recommended cars for individuals/families who wanted to travel with their pet. The 2017 Honda Fit was also in the top 10 for the people who prefer a gas efficient car. In addition to having the proper vehicle for Fido, there are other things you can do to make the trip more comfortable for everyone.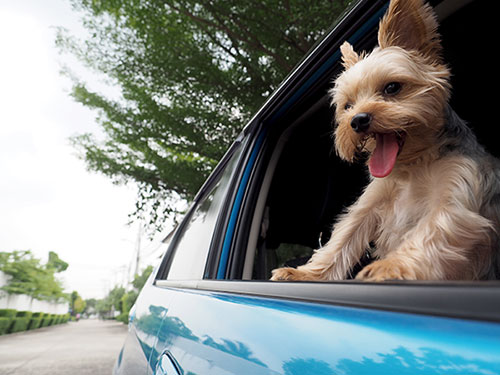 Resist holding your pet in your lap
Do not carry your pet on your lap or in the front seat, especially if your vehicle is equipped with an airbag. Airbags are intended for people and can actually cause a lot of injury and/or kill your pet. Use a crate or harness (just like a seatbelt) to secure your pet and safety for everyone in the car. Some manufacturers like Subaru also make special compartment dividers for their cars.
Equip your car with lower ride/entry for bigger or older dogs
Older animals can have a hard time getting in and out of tall vehicles. If your pet is unsure or new to a vehicle, they could hurt their hips, legs or shoulders when trying to get in and out of vehicles. Make sure the vehicle's height isn't too much of an obstacle. This can be remedied with special ramps, assisted harnesses, and even the buddy system to lift dogs into the car.
Being away from the conveniences of your home can cause us to feel unprepared. Make a list of essentials not only for yourself but for your animal as well. We suggest: treats, water/food bowl, leash with a harness, prepacked food, small towel, medication (if applicable), and plastic bags for cleaning up after your pet (bonus points if they're biodegradable!).
Try and plan your stops ahead of time so that you schedule your stops every few hours. If you're staying in hotels or AirBnBs, make sure they're pet-friendly before you book them. Some hotels and motels say they allow animals but they might have weight limits or charge you an extra fee.
NEVER LEAVE YOUR PET IN THE CAR
Never leave a pet in the car on a hot day. The absolute cutoff point is when the outside temperature reaches 60º F, it might feel cool to us but it's not for them. However, if you absolutely must leave your pet alone and the temperature is suitable, open the windows a few inches (sunroof too if you have one) and be very quick.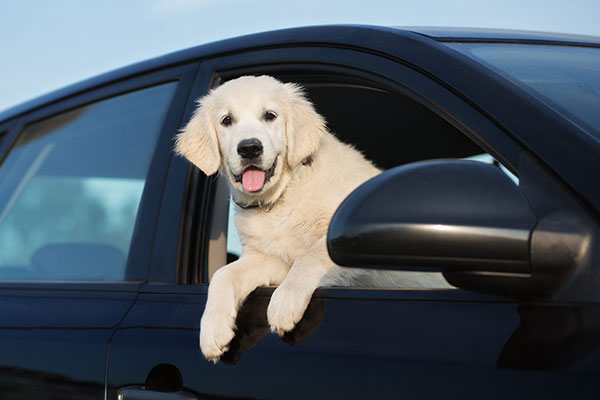 Traveling with your furry family member can make for lots of fun memories and adventures. Just make sure that everyone is properly prepared for the trip, no matter how long or short.