The first rule of taking a road trip is knowing that things are not always going to go the way they are supposed to. Being prepared for the worst-case scenario will never be a bad thing. Put together the perfect kit to make sure everything goes as smoothly as possible. This isn't just referring to the ideal toolbox in the trunk. There are other things needed for the perfect road trip inside the cab.
Basic Tools
The essential tools that you find in every toolbox is the first place to start. You never know when you could use a screwdriver. They don't take up much space and could come in handy even if it isn't because of your car. A pair of pliers or two is a must. Two sets of screwdriver flat head and Philips's blade. A wrench and vise-grips are other staples. And you can never go wrong by adding a good pocket knife with all the bells and whistles. Maybe even a little hammer to top it all off. With your basic tools together, you will never be caught without a tool.
Fix a Flat
A common problem on the road is getting a puncture in your tire. This is a fast way to delay a good road trip. Without a good tool kit, you could be waiting on the side of the road for help instead of being able to help yourself. Add a can or two on Fix-A-Flat Tire Sealant and Car Tire Inflator into your emergency kit. This way, you can stop a small problem before it turns into a nightmare. A simple fix that can help you until you can get to a shop.
Cables
Batteries always go dead at the wrong possible moment. The remote batteries go out when you need to change the channel to start your favorite show. And car batteries go extinct in the middle of a fun adventure. Never leave without a way to get the battery back up and going. One option is a set of jumper cables. Another option that means you won't need another car to give you that jump is a Car Battery Booster Pack. It comes with a power bank and the cables to jump your battery. If you get stuck with a dead battery in the middle of nowhere, you won't be stuck for long.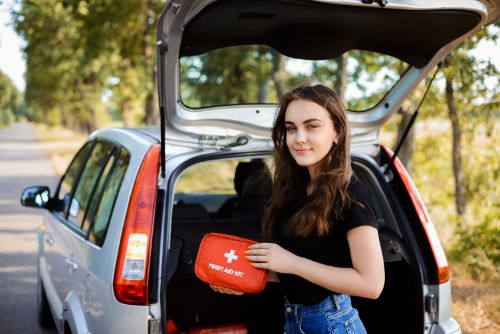 First Aid Kit
Another problem that could be car-related or not is someone getting hurt. Exploring on a road trip could lead to a few minor injuries that could bring down the vibe without a first aid kit to keep you going. While changing a tire or doing other simple work on your car, you could need a little first aid. It is a good idea to be prepared at any time with an Emergency Trauma Kit in your trunk.
Never have an unexpected moment ruin an exciting road trip. Prepare now so you will never have to worry about it.